Our History.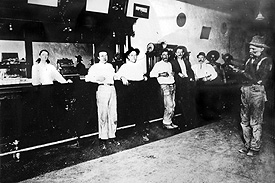 The Hotel Brunswick was originally built in 1909. It was the first three story building for counties around. The Owners, Mulligan and Thompson earned the reputation of providing up scale services by using waterford crystal stemware and solid brass beds. The Hotel Brunswick, even during its formative years provided guests with full electricity and telephones in every room.
Unfortunately, a rift between the partners (over a lady of course) caused a division of the property in 1912. A wall was built to create two separate hotels. The separate hotels continued to operate, one side featuring a bar and 25 rooms and the other a restaurant and 25 rooms.
Celebrities such as Clark Gable were known to have spent time within the walls of the Brunswick..
After buying the Mulligan side, the dividing walls were finally brought down in the 1960's by owner Joe Otero, who had earlier purchased the Thompson side. In 1997, the Davis proprietors totally renovated the building and after a period of 20 years in which the hotel had remained dormant, it was reopened as a bed & breakfast lodging.
In February 1999, French owner, Gerard Guedon took over the Brunswick as an historical boutique hotel, offering additional services to guests. The new proprietors of the hotel, bar and restaurant are Jason and Jennifer Pfaff, who assumed management in April 2006.
Step into the Brunswick lobby and go back through the years to the early 1900's. Relive this nostalgic era as you find yourself surrounded by fthe ambience, furnishings and décor of that time.
For more information on local Kingman history, please see the wonderful Kingman Tourism website.